Cochrane & District Chamber of Commerce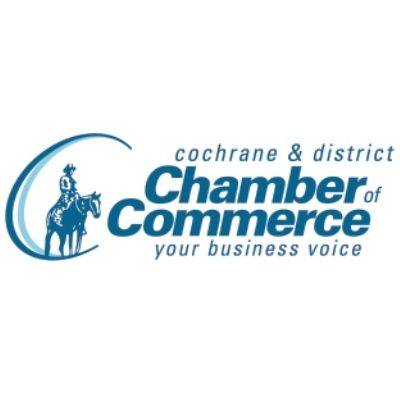 ---
Mission Statement
The Cochrane & District Chamber of Commerce supports and promotes the business community, and area development, by inspiring and servicing businesses to ensure a healthy, innovative economic future.
Guiding Principles
Our ambition is to be an organization that:
Thrives
Models organization
Grows the membership and other revenue opportunities
Grows our influence and impact
Contributes to its Members' Success
Provides excellent customer service
Connects our members to friends in business (customers/partners/providers), cost-savings (affinity benefits), educational opportunities and local business intelligence
Is a service provider/lifeline in business ("You do what you do best, we help with the rest.")
Strengthens Cochrane & District Chamber of Commerce as an Anchor Institution
Builds on our 40-year history of supporting progressive city- and community-building initiatives
Is "Your Business Voice," thought leader and change agent for a more prosperous community through policy and advocacy
Is an active anchor institution that fully takes advantage of our greatest asset: our convening power
Connects Cochrane to our Region and the World
Is the face of Cochrane in our regional, provincial and national networks
Cultivates strategic partnerships with organizations that strengthen our organization (Town of Cochrane, Cochrane Economic Development, Cochrane Tourism, etc.)
Opens market opportunities for our members
Is inclusive and welcoming
Reflects the community's social and economic diversity
Supports certain initiatives with an economic imperative
Cochrane & District Chamber of Commerce is a member-based group of business people in the Cochrane region. Based in the historic ranching Town of Cochrane, Alberta, the Chamber exists to promote local business and ensure a strong economy. Like the visionary pioneers who established commerce in the western outposts, our current members seek to find new solutions to emerging challenges.
The Cochrane & District Chamber of Commerce is a dynamic group. Members can participate as much or as little as they like. We are governed by a volunteer Board of Directors elected from our active membership. The Board sets policy and represents the members' interests by being the voice of business.
The Chamber seeks opportunities to host events which promote members' businesses. Annual events include the Cochrane Trade Show, Lunch and Learns and the Cochrane Community Awards Gala. Each of these events showcases local business and allows the public to experience local establishments.
Networking events and business training opportunities are held each month. Spotlights on local businesses appear in local media and on the website. Discounted rates on group health plans, merchant services, fuel programs and much more are offered exclusively to members.
Cochrane & District Chamber of Commerce is constantly striving to provide value for our members.